Western Australia's Banksia Farm
Banksia enthusiasts Kevin and Kathy Collins run the world's only complete banksia arboretum but getting the entire collection was no easy task.
KEVIN COLLINS HAS loved banksias ever since he was a child. "When I was young we'd collect the banksia cones on our farm for firewood," he tells Australian Geographic. "I used to climb trees and suck nectar out of the flowers."
He's found quite the soul mate in his wife Kathy who shares his love for banksias and Western Australian wildflowers. It wasn't long before the two decided to move their family away from the hustle and bustle of Perth to the quiet country life of Mount Barker.
Located in the Great Southern Region of Western Australia — where visitors eager to see the best and brightest of the state's annual wildflower season flockeach year — Mount Barker district is home to a remarkable variety of banksia species.
"If you get a string and draw a 50km radius around our town of Mount Barker we have 24 endemic species. If you draw the same thing around any other town in Australia the maximum is 18, so we are the richest area for diversity of banksia species," Kevin says.
Back in Perth, the family had around a dozen banksia species crammed into their backyard, so when they first began developing their property on Mount Barker in the early 1980s they were eager to expand their collection.
The property had a wide variety of soils: wet peaty swamps, sand, gravel, limestone and clay, which allowed for all different kinds of banksia to flourish. But it wasn't until the pair got involved with a citizen science project to atlas Australia's banksia species, that they made the ambitious decision to create the world's only complete arboretum of banksias — all 79 species.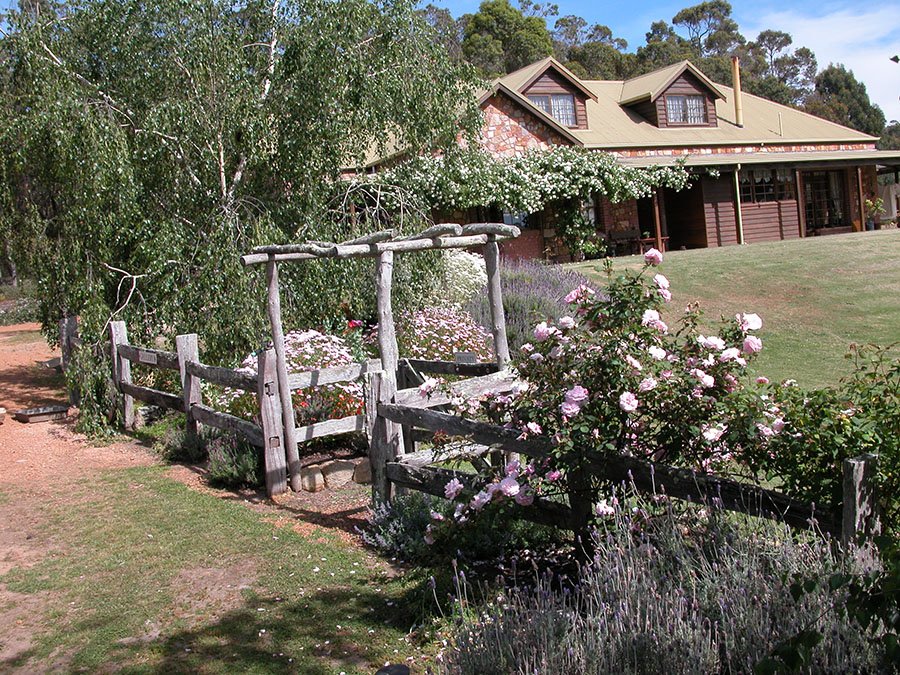 Collecting the seeds
Collecting the seeds of each and every species became a family affair. "We took the kids out camping, we took them to the eastern states, we went hiking up mountains and we went to the snow country searching for banksia seeds. We had quite a few adventures. It wasn't too difficult at all," Kathy says.
But it hasn't always been an easy journey. For Kevin, the collection of the Banksia plagiocarpa was the Holy Grail. Commonly referred to as the 'blue banksia' or 'Dallachy's banksia' after John Dallachy, the man who first collected it, this particularly beautiful specimen is found on Hinchinbrook Island located just off the Queensland coast.
"We flew to Cairns, hired a car and got a boat to go across to the island, took our camping gear and we made our way through the rainforest and up a 1000m mountain to find it. It wasn't in flower but we knew what to look for and took the seeds back to Mount Barker," Kevin says.
"Here's a challenge: grow a banksia in cool, southern Western Australia that normally grows on top of a mountain in rock…we thought we had no chance.  It really tested us.
"We tried it in five different locations on the property and surprise, it grew best on the driest place on our farm, a natural bit of understory bushland that we had in tough iron stone rock. That proved to us that we could grow every banksia."
There isn't a time of year that Kevin and Kathy don't have banksias in flower.
"We have banksias from tropical north Queensland growing next to a rare one from the local Sterling Mountains and a desert one from Kalgoorlie next to one from Tasmania, all growing side-by-side.
"We have 55 flowering in autumn, 40 in winter, 35 in spring and 20 in summer and they overlap."
(On the left) Kathy and Kevin Collins.
The Banksia Farm
Back in 2007, much to the surprise of Kevin and Kathy they were listed by Australian Travel Magazine as one of the top 100 "unknown and undervalued tourism destinations" in Australia.
Kathy and Kevin had first started welcoming people onto their property to see the banksias back in the early 1990s.
"Once we got notoriety from having the world's only complete arboretum of banksia species, people then wanted to come and see them. We were reluctant at first, but after we could assure the safety of the banksias we went with it."
Soon enough, the couple's property was listed as a stop along the east to west coast wildflower tours. And they upped their game.
"We started labelling the species and we created maps.  We learnt about aboriginal history and the fossils, which made up a kind of introductory talk that eventually developed into a tour. We made it more of a professional business."
But once Kathy and Kevin turned 70 last year, they closed the garden to general public visitation. House guests and study group members can still access tours by appointment.
A banksia cluster.
A vital scientific resource
Despite that the property is no longer accepting large groups of tourists, Kathy and Kevin, who are leaders of the Australian Banksia Study Group, say that their arboretum is always open for science.
Kevin and Kathy feature in countless journal articles and books on banksias for allowing people to use their farm for research. Kevin was even the subject of an ethnographic study that examined whether "plant-based objects and living plants deepen human memory."
Recently, the couple have been asked to co-author a major reference book on banksias, as the current reference book is out of print and new species have been discovered.
Only just last year a new species of banksia was discovered an hour and half from Sydney. Luckily, Kevin had already been growing it for years without realising that it was a separate species, so the couple's arboretum remains complete.
Over the years the Mount Barker Banksia Farm has been utilised for all different kinds of scientific studies.
"They're one of the highest utilised plants for research in the whole of Australia because of their different root systems, their stature, fossil records andscientists use them to understand climate, DNA and disease.
"We've currently got some students from Potsdam in Germany looking at the wood fibre follicles and how they open with certain temperatures."
Kathy and Kevin are pleasantly surprised about how far their business has come.
"When we first started people thought making a business out of these flowers was a laughable matter but it's led to all sorts of different ventures."
READ MORE:
Read Next