The poppy and the pea: remembering the Frontier Wars on Anzac Day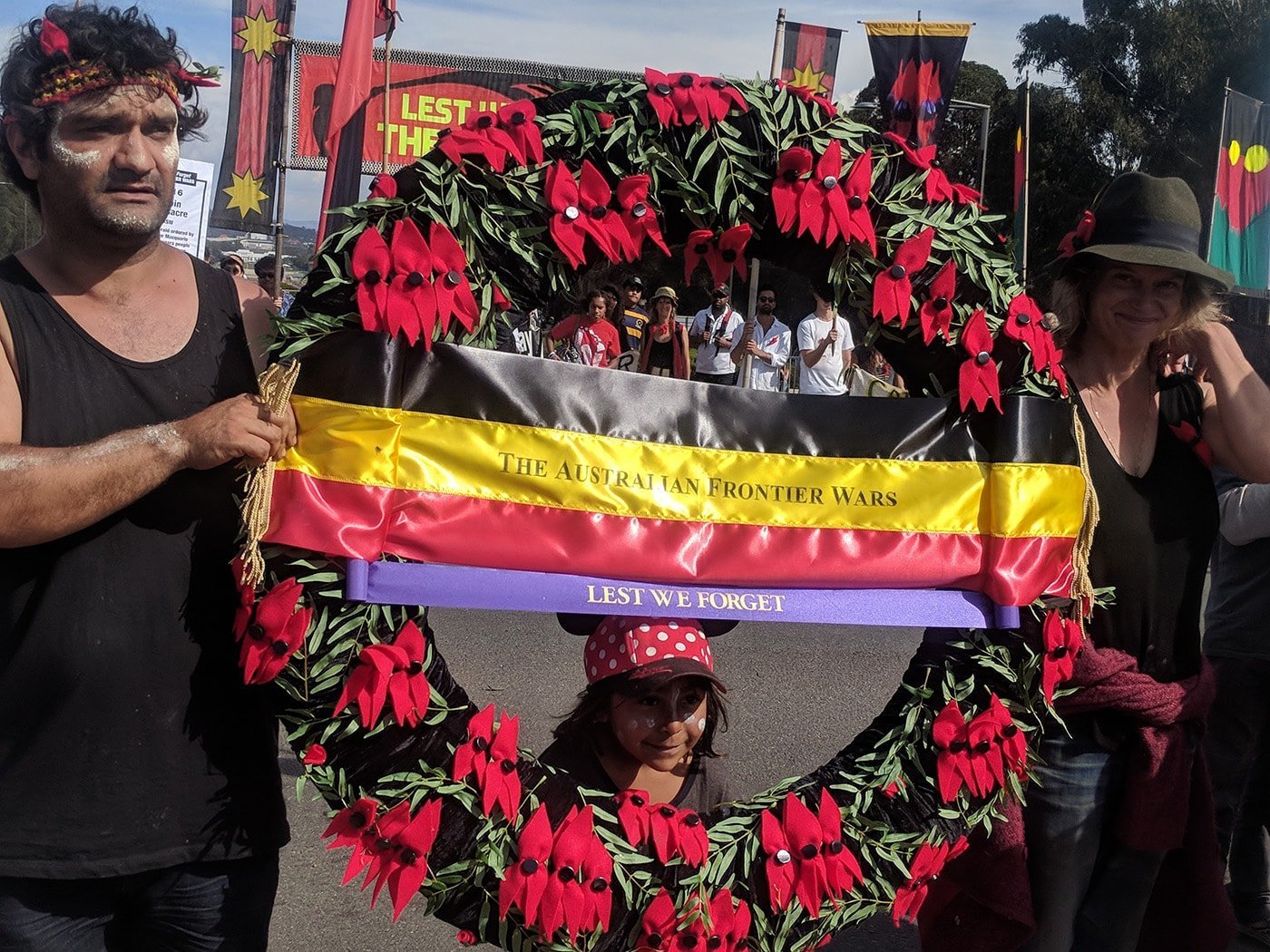 The native desert pea is becoming a symbol of mourning for Aboriginal Australians. And now, one florist is seeking to have it recognised alongside the Flanders poppy on Anzac Day.
FLORIST Hazel Davies has spent much of her life around the Australian War Memorial. For 22 years she and other volunteers from the Canberra Institute of Technology (CIT) have given up their time to create wreaths and pick fresh poppies and rosemary for the annual service on the 25th of April. Over her career, she's witnessed the deep connection Australians have to Anzac Day and those who lost their lives not just in World War II, but all wars involving Australian and New Zealand service men and women.
In that time, Hazel's come to realise that Australians interpret themselves through the story of the Anzacs, but she recalls a period back in the early 1990s when people became disconnected from those stories. "Australia had this big war memorial and people went to visit but there wasn't a great deal of personal connection, it was a mausoleum if you like."
On top of that, Anzac numbers began to deplete as the diggers grew old. "That concerned a lot of people because white Australia saw the Anzac story as an identity story," she says. In the wake of this "identity crisis", the then Prime Minister Paul Keating decided to bring the Unknown Soldier back to Australia from the Western Front, and inter the remains at the Australian War Memorial. "Now, we didn't just have bricks and mortar, we had what Paul Keating called 'one of our own'. That changed something in the psyche of the Australian people."
On the day that the body of the Unknown Soldier was interred at the War Memorial, Hazel witnessed an Australian-first. "There were about 55,000 people present. One person discovered that you could push a poppy in the crack next to one of the names on the memorial and everyone copied. By sunset thousands of poppies were on the wall." She describes this moment as a "movement of the people". "It was Australians looking for identity," she says.
Desert peas. (Image Credit: Nick Rains)
Re-discovering the story of the desert pea
Florists – or, as Hazel prefers, "purveyors of symbolism" – spend a lot of time working with stories. "I have been designing for special events for nearly 40 years, always working with some kind of narrative. Using flowers as symbols all the time. That's why I believe florists are symbologists." During her time as a florist for Parliament House, she even put together a wreath in memoriam of the Bali Bombings: a combination of golden wattle and frangipanis. "Floristry in Canberra is very thematic. Events had to say something," she says.
Known for her deep understanding of floral symbolism, in 2014 Hazel was asked by CIT to re-write the recognised plants program. And that's when she came across the story of the desert pea (Swainsona formosa). "Each plant has a profile and as florists we don't want to know what soil it grows in, we want to know the narrative associated with a particular flower and in doing my research I discovered that the desert pea was regarded by many Aboriginal groups as a battleground flower. It actually had an almost identical story to the Flanders poppy."
One particular dreaming story from the Barkandji people of Dharriwaa, in north-western NSW was of an ancient war between two Aboriginal nations over a woman. One elder and his mob ambushed another nation and killed a man. But he didn't stop there, he took out the whole nation. The man returned to the land six months later and it was now arid, desert peas sprouting where blood had been shed. Hazel has also drawn parallels between this story, and the story of Cain and Abel.
(Image Credit: Hazel Davies)
Recognising the Frontier Wars on Anzac Day
After gaining permission from Aboriginal custodians to tell this story, Hazel has set about promoting the desert pea to the same status as the poppy on Anzac Day, to commemorate the fallen Aboriginal people of the Frontier Wars between European colonists and Aboriginal people.
"The desert pea project isn't about blame or pointing the finger. It's not about taking away the poppy or any of the honour of our soldiers that went to war and are still at war. But it's about living under our national creed which is 'lest we forget and we shall remember them'."
Hazel uses different Anzac symbols and mixes these with the desert pea and other native Australian flowers. "When I was first given permission to tell this story, an Aboriginal elder asked me to make a wreath with desert peas throughout. I also developed the Frontier War sash, so it looks like battle sash. I was taking things from the Anzac ceremony and interweaving the symbols.
"At the same time, we wish to utilize particular botanicals of mourning for each Aboriginal nation on their own country. Other Aboriginal people value the bottlebrush because it marks where their people lay, so we'd do a wreath of bottlebrush and desert pea. It's like how we have the wattle as a our national emblem and then different state emblems."
A national conversation about the proper recognition of the Frontier Wars re-emerged last year when University of Newcastle historian Lyndall Ryan mapped the massacres of Aboriginal people along the east coast waged by European colonists during the first decade of occupation. Hazel and Lyndall will meet in September this year to discuss how they can work together. "Lyndall's research is scientific and draws on white man's empirical evidence. She's doing wonderful work for Australia.
"My theory is that when it is seen to be true and we finally call it war history, then Australians will have to acknowledge it. As Lyndall tackles that side of history, I'm working on a public and perpetual memorial with the same status as Anzac. Paul Keating famously said, 'he is one of us, he is all of us,' so the pea and the poppy says 'we are together, we are us. But you are you and I am me. We honour one another'."
Constructing felt desert peas. (Image credit: Hazel Davies)
The roll out
For the past seven years, Aboriginal people have marched on Anzac Day under the banners of the Frontier Wars including Myall Creek, Wooli Wooli River and more. However, they're not allowed to participate in the actual parade. Instead, they march beyond the 50-metre exclusion zone.
Last year, Australian War Memorial Director, Brendan Nelson told SBS's The Point that the war memorial was a place to unify people. "We represent and we remember all Australians who have served, who have suffered, and who have died; irrespective of their race, irrespective of their politics, irrespective of their religion and irrespective of their rank." He went on to say that the story of the Frontier Wars belonged in a museum.
Hazel expected this type of opposition from the beginning. "I don't judge the War Memorial or RSL Officers because the Anzac narrative has formed them as people. However, we have to get them to see beyond what they may view as an act of betrayal of their own, to them seeing that it's actually a betrayal of one's own creed.
"If we're going to truly honour 'lest we forget, we shall remember them', if we live as true RSL officers, true soldiers of the past, we will remember all of our fallen because that's living according to our creed. We live under the Anzac story of always doing the right thing."
Over the past two years, Hazel has been humbled by responses to the desert pea project. "Increasingly people cheer us on. Last Anzac Day we were handing out poems and desert peas and people were snatching them from us. And this year, we laid the wreath and some very high-ranking officials came down and saluted us, which meant they'd broken protocol.
"I'm very keen for this to be a peaceful and a positive narrative. It's not about us and them, that's why I call it the poppy and the pea, not the poppy or the pea. We have to walk together."
(Image Credit: Hazel Davies)
Read Next