Carved trees bring indigenous history to life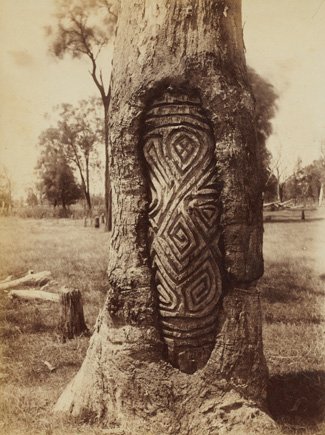 An exhibition of rare photographs from the early 1900s sheds light on an ancient Aboriginal art form.
FOR THOUSANDS OF YEARS Aboriginal groups in central NSW marked important ceremonial sites by carving beautiful, ornate designs on the trunks of trees. The carvings, comprising symbolic motifs, intricate swirls, circles and zigzags, were intended to be long-lasting but, instead, only a handful of the trees on which they were carved are still alive today.
In the early 1900s several amateur anthropologists, including Clifton Cappie Towle, showed an interest in indigenous culture, documenting and photographing rock art, ceremonial sites, and examples of tree carvings. Thanks to their photographs, which are currently on display at the State Library of NSW, the art form can be glimpsed by the public.
Exhibition curator Ronald Briggs says the practice of carving trees was abandoned more than 100 years ago, which makes it difficult to understand the original meanings behind the designs.
"I think of them as a warning to people walking by that this is a special area, a warning to you that the site is spiritually significant," he says. "They're really quite powerful."
Central and western NSW were once dotted with sacred, carved trees, particularly regions such as Gamilaroi country (an area that stretches from the Upper Hunter Valley west to the Warrumbungle Mountains and north into south-west Queensland) and Wiradjuri country (a region bordered by the Lachlan, Macquarie and Murrumbidgee rivers).  In these areas carvings marked the burial sites of important men and served as powerful initiation symbols for boys making their transition to manhood.
In Molong, four trees that were carved in the 1850s still surround the burial site of Yuranigh, a Wiradjuri man who was a guide to explorer Sir Thomas Mitchell. Sadly, this is a rare exception. In most other cases the plight of the carved trees is tightly bound to the dispossession of Aboriginal peoples after European colonisation.
"The last recorded ceremonies took place at least 100 years ago, around the time that Aboriginal people were moved into reserves and were rewarded for practising European ways and encouraged to accept European-style funerals and tombstones instead of trees," Ronald says.
Most of the 7500-odd sacred tree sites recorded in NSW have been destroyed by land clearing, bush fires, farming and natural decay. Today, Collymongle in north-west NSW, is the site of around 60 surviving carved trees, the greatest cluster remaining in the state.
Aboriginal art captured on film
More than a century ago, anthropologists such as Clifton Cappie Towle, Lindsay Black, Russell Black and Edmund Milne travelled around rural NSW in search of Aboriginal relics. They wanted to preserve indigenous heritage for the future and took hundreds of photographs to document what they found.
Lindsay Black reportedly travelled for miles along the Darling River, and trekked along its tributaries and creeks in search of tree carvings to capture on film.
During the 1930s and '40s many anthropologists also campaigned to save the remaining trees by collecting them and sending them to museums. "It's sad they were removed and put into museums, but that's also a good thing," Ronald says, adding that it's likely they would have been destroyed had they not been preserved in the right conditions. 
Bringing indigenous relics home
Many of the trees ended up in museum storage, and now some communities are trying to get them back. Last year, Museum Victoria returned a carved tree to the Baradine community in north-west NSW that had been removed 90 years earlier. The tree was carved in 1876 to mark the burial site of five Gamilaroi men.
Larraine Ransfield, CEO of the Baradine Local Aboriginal Land Council, says the community was thrilled and welcomed the return of the tree with a smoking ceremony. "We were very proud seeing something so old come back to the community," she says. "There's not a lot of heritage like that."
Already the tree has attracted tourists, and has inspired other small communities to claim their carved trees back. Warren Macquarie Aboriginal Land Council is currently in dialogue with Museum Victoria to get two carved trees repatriated.
Carved Trees: Aboriginal cultures of western NSW  is a free exhibition on display at the State Library of NSW until 26 June. The exhibition will then travel to regional NSW. Visit www.sl.nsw.gov.au for more information.
RELATED STORIES
Read Next