DNA confirms Ned Kelly's remains
Minus most of the skull, the skeletal remains of bushranger Ned Kelly have been found at Pentridge Prison.
DNA TESTS HAVE confirmed that skeletal remains at Pentridge Prison in Victoria are those of the infamous bushranger, Ned Kelly.
Kelly's remains were originally interred at Old Melbourne Gaol, where he was hanged in 1880. In 1929 the remains were said to have been transferred to a mass grave at Pentridge, but until now it was unclear if this was true and which remains belonged to Kelly. 
Doctors and scientists at the Victorian Institute of Forensic Medicine (VIFM) led a 20-month study, that involved DNA tests, CT scans, X-rays, pathology, odontology (teeth examination) and anthropological analysis, to identify the body. A 'mitochondrial' DNA sample (from the maternal line), taken from Melbourne school teacher Leigh Olver, the grandson of Ned's sister Ellen, helped confirm that the skeleton – which is missing most of the skull – belonged to the famous bandit.
Kelly and his outlaws, known as the Kelly Gang, were famous for their violent clashes with the Victorian police. After killing three policemen in 1878, the gang was eventually tracked down and ambushed outside the Glenrowan Hotel in June 1880. Kelly, wearing his famous steel helmet, was captured by police and sentenced to death five months later.
Ned Kelly: Victorian bushranger and outlaw
Dr Dadna Hartman, Molecular Biology Manager at VIFM, says the team was able to confirm the remains belonged to a male who died at a similar age to Kelly. The skeleton was also marked by gunshot wounds, known to have been sustained by the outlaw at the time of his capture, she says.
Glenrowan-based historian Gary Dean, who has been researching the Kelly history for more than 40 years, says while there's a strong possibility the remains belong to Kelly, he's not convinced the connection has been conclusively proven. DNA passed along the male line is needed in addition to mitochondrial DNA that was passed down from Kelly's sister, he says. 
 
"You've got to match [the DNA from Kelly]…with the Y chromosome, which is passed from father to son [and would only be found in male descendents of male siblings]. Unless they've done that, they haven't actually proven that those remains are Ned's at all," he says.
 
But Dadna says a Y chromosome test would have been impossible because a paternal relative couldn't be found.  "DNA is just one piece of the puzzle, and taking it together with all the other evidence, we believe it's him," she says.
"This is an extraordinary achievement," said Victoria's Attorney-General Robert Clark. "To think a group of scientists could identify the body of a man who was executed more than 130 years ago, moved and buried in a haphazard fashion among 33 other prisoners, most of whom are not identified, is amazing."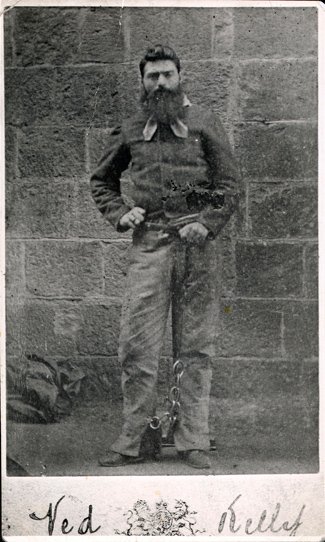 On the trail of Ned Kelly's skull
The project involved collaboration with the ancient DNA laboratory EAAF in Argentina, which has worked with the VIFM on other forensic projects.
The investigation started when a skull believed to belong to Kelly was handed to the VIFM on 11 November 2009. The skull had been taken from the Old Melbourne Gaol in December 1978 where it had been on display next to the death mask of the bushranger. 
Gary says Kelly's skull was probably taken by a policeman as a souvenir, and that finding it is the next step in solving the riddle about the bushranger's remains.
While the skull – which turned out not to have belonged to Kelly – was being investigated, the team tried to identify his remains among the 34 men exhumed from Pentridge in 2009.
A dignified resting place for Ned Kelly
Ned's sister's grandson, Leigh Olver, says it's a great relief to finally have this side of the story resolved, and he'd now like Kelly to be given a dignified resting place.
The Victorian Government says it will consult widely about what to do with the skeleton. Former Pentridge Prison chaplain and vice-chancellor's fellow at Melbourne Law School, Peter Norden, says he believes Ned Kelly didn't get a fair trial and that he should at least be entitled to a decent burial.
"The contact that I've had with members of Ned Kelly's family in recent years would indicate that at least one of the possibilities is that Ned would be buried alongside his father's grave in Avenel in country Victoria," he says. 
Australian Geographic's 100 Aussie icons
Read Next