Kangaroo spotting in Canberra
If you want to see kangaroos in the wild, the best place is Australia's national capital: Canberra.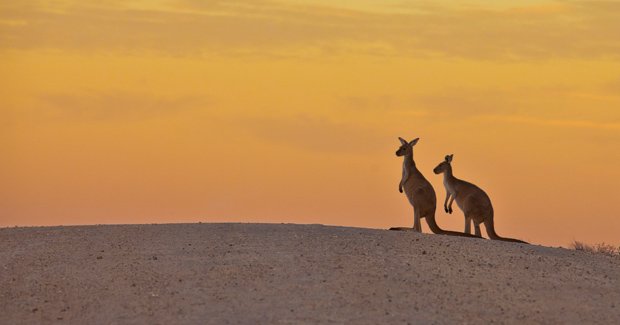 THOSE TRAVELLING IN AUSTRALIA will be familiar with the following lament from international visitors: "We've been travelling for weeks and still haven't seen a kangaroo. Well, except for dead ones by the side of the highway."
It's true. Tourists may arrive on the flying kangaroo, but it can then prove trickier than expected to spot Skippy out in the wild. The solution for your next international guests or family holiday? Canberra.
There are two keys to success: inside knowledge, and a car. And yes, despite the occasional (controversial) urban culling, there are still plenty of kangaroos to be found in and around the ACT.
The larger eastern grey kangaroos are most commonly spotted, but according to ecologist Don Fletcher from the ACT Government's Directorate of Environment and Sustainable Development, they're not the only macropods in the ACT.
"There are common wallaroos – the males are black, but the females are a very pale grey – the red necked wallaby; or the swamp wallaby, which have nothing to do with swamps," he says.
While numbers are hard to quantify, reports show densities can be high.
The highest densities, of around 450-520 kangaroos per square kilometre, occur in grassy valleys in the ACT's mountains, like Tidbinbilla or Namadgi National Park; while in town, grassy areas commonly hold 150-300 roos per square kilometre, although forested areas like Mount Ainslie have about 10 per cent of that, Don says.
Spotting kangaroos
Government House
While rumours of kangaroos swimming in Lake Burley Griffin remain alive and kicking, the very suggestion screams 'urban myth' to any Canberra residents. Still, you've got a good chance of seeing them lounging about on the lawns of the Governor General's house on the lake's shores, as the property is set on 54 hectares of parkland.
While the official address of the property is Dunrossil Drive, you should enter along Lady Denman Drive, which wraps around the lake and crosses Scrivener Dam. Drive slowly; you'll see a dirt car park and steps leading to the Government house lookout.
While you're enjoying the view up the long lawns towards the heritage-listed home, keep an eye out for the many resident grey kangaroos. Remember, dawn and dusk are best spotting times (overcast weather is good too). If that fails, perhaps try a round at the Royal Canberra Golf Club next door; beware though, while roos are regulars there, the club's policy towards human visitors is strict.
Mount Ainslie
Directly behind the Australian War Memorial, a path leads walkers along a steep bush track up to the top of Mount Ainslie. While the views of the Parliamentary Triangle at the top make it worth the journey alone, it's also a good place to potentially spot a couple of kangaroos enroute. A better bet is to head to the east side of the mountain, by travelling east along Fairbairn Avenue and turning left onto Northcott Drive (skip Mount Ainslie Drive, that'll simply take you up the mountain). Park in the car park of the Campbell Park Offices (a government department) and simply stroll anywhere around the adjoining nature reserve (officially called Canberra Nature Park, but known to locals as the side of Mount Ainslie). Chances are, you'll leave having spotted up to 100 kangaroos – often you don't even need to leave the car park to find them.
Namadgi National Park
For a day in the bush proper, a strategic trip to Namadgi National Park will reward you with views of so many kangaroos you won't need to see another one for decades. It'll take you about an hour from the centre of town to get to the park's visitors centre; ask them for a map and details about the Yankee Hat walk (your final destination in the park).
Enroute, you'll pass the 'valley of 1000 kangaroos', an open grassy area where you'll spot so many hundreds of grey kangaroos you'd have to be sleeping to miss them. These are truly wild, so you won't get as close as you might in Mount Ainslie (20-50ms seems to be the animal's comfort zone there), but seeing these large mobs in their natural bush habitat will be rewarding for even the most hardened wildlife spotter. Pack lunch and walking shoes – the easy (one-hour walk) to Yankee Hat ends at an excellent, secluded picnic spot, and one of Canberra's best examples of Indigenous rock art to boot.
Urban fringe walks (Canberra's parks and reserves)
As the bush capital, the dozens of nature parks dotted around Canberra mean locals are used to seeing kangaroos when they head out for their daily evening stroll. Find these spots either takes local knowledge, but once you're there it's usually only a matter of an easy stroll before you'll spot one, two, or dozens of roos.
Out favourites include: Glenloch interchange (on the north side of William Hovell Drive – try parking somewhere off Bindubi Drive – roos love it around here) or the Pinnacle walk (off Springvale Drive in Weetangera).
You could also try the new walk on Mulligan's Flat nature reserve, accessible from suburb of Forde on the northern side of Gungahlin. An 11km vermin-proof fence has been installed here, to keep out the foxes and rabbits, and give the native flora and fauna some peace. The kangaroos aren't guaranteed here, but the birdlife is good and it's a flat, enjoyable walk through grasslands and local native forests regardless.
RELATED STORIES
Read Next