5 top spots to fossick for opals
Contributor
John Pickrell
Contributor
John Pickrell
John Pickrell is the editor of Australian Geographic. He is a science writer, author, nature lover and self-confessed geek. Blog posts range over Southern Hemisphere palaeontology, dinosaurs, megafauna, archaeology, palaeoanthropology and a smattering of other topics.
The opal fields of Queensland, New South Wales and South Australia are spots to fossick for hard-won flecks of treasure and explore fascinating history.
OPAL – STUNNINGLY BEAUTIFUL and quintessentially Australian – is our national gem.
Unique among its peers, precious opal is a glassy, translucent stone that refracts light in brilliant colours, which flash and change as it is viewed from different angles.
More than 90 per cent of precious opal is from Australia; here the geological conditions around the once vast Eromanga Sea favoured its creation over millions of years from silica deposits in subterranean pockets. Opal fields can be found around the shores of this prehistoric ocean, once the province of giant reptiles.
Opal mining towns
Four towns in particular – Coober Pedy, Andamooka, White Cliffs and Lightning Ridge – are synonymous with opal mining, and all have stark landscapes, pockmarked with shafts and mullock heaps.
Today they thrive on tourism as much as mining, and are rich places to experience Australia's mining heritage and outback way of life, as well as have a go at 'noodling' or 'specking' for opals.
Opal comes in a variety of colours and styles. Most common is opaque potch, which lacks precious opal's colourful play of light. Translucent crystal opal is found in all fields.
Black opal, sometimes with deep-red colouration, is found at Lightning Ridge and is the most valuable; light opal comes from South Australia and New South Wales; Queensland produces boulder opal, formed within brown ironstone.
Opal is also found in places such as the USA, Ethiopia, Honduras, Mexico and Brazil, but Australian opal is still regarded as the most valuable.
Learn about digging for opalised fossils in Lightning Ridge.
Here are five of the best places in Australia to fossick for opals:
1. Yowah, QLD
Fossickers here search for 'Yowah nuts' – ironstone nodules that occasionally contain kernels of opal. There's a designated area for fossicking near town; a licence is required before getting stuck in.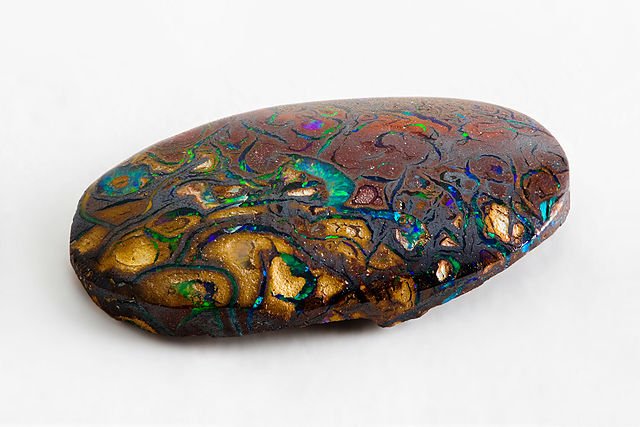 A Yowah nut from Queensland. (Credit: Wikimedia/Noodle Snacks)
2. Lightning Ridge, NSW
The source of black opal, Lightning Ridge has the nation's most valuable fields and interesting history, which attracts 90,000 visitors each year. There's a fossicking site near the Visitor Information Centre.
Opalised fossils in black opal from Lightning Ridge. (Credit: Bob Smith/Australian Opal Centre)
3. White Cliffs, NSW
A producer of large quantities of seam opal between 1890 and 1930, White Cliffs was Australia's first major commercial field. Ask at the pub or the general store for miners operating opal-noodling tours.
4. Coober Pedy, SA
Gems were found here in 1915 and today the town is a prolific source of light opal. An old field dubbed the 'The Jeweller's Shop' is set aside for noodling. Avid noodlers may find small opals or low-quality potch opal in the offcuts.
5. Andamooka, SA
Near Lake Eyre, opals were found here in 1935. Commercial production peaked in the 1960s, but good noodling spots can still be found. Ask at the pub or store for tips.
An opal triplet in blue and green from Andamooka. (Credit: Wikimedia/CRPeters)
John Pickrell is the author of Flying Dinosaurs and Weird Dinosaurs. Follow him on Twitter @john_pickrell.
Read Next