Brisbane floods lower, but devastation continues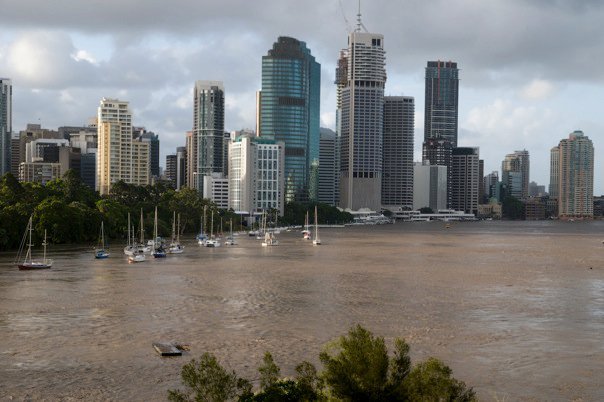 The river in Brisbane has peaked lower than the 1974 floods, but devastation continues.
"EERIE" WAS THE MOST common word that people were using to describe the atmosphere yesterday afternoon when I arrived in Brisbane, with the river set to continue steadily rising during the night.
For one of the only times in the last three months, the weather forecast included sun, as if Mother Nature herself was helping to dry up the wet and give people some hope. While the CBD has become a ghost town and the riverside suburbs submerge, many others remain unaffected. Because the rains have stopped, many creeks which would usually flood have held their banks. It is the suburbs along the river which are most badly affected.
Reality of the floods unravels

This morning, Brisbane woke up to a clear, blue bird day. The river peaked at 4.6 m overnight, almost 1 m less than the record 1974 floods. But the danger is not yet over; while the water it is falling right now, it will again peak around 4 pm on the afternoon high tide.
While Brisbane has been spared the level of the 1974 floods, the city's population (just over 2 million) is larger and more densely packed than 36 years ago (911,000 people), so more people are affected. The Wivenhoe Dam was constructed to mitigate floods like those in '74, so its presence has surely averted a much greater disaster.
Many people are staying away, thankfully from the floodwaters, but there are also many onlookers, keen to see a once-in-a-generation natural disaster. Authorities say that more than 11,000 homes are flooded and busineses too. The waters are set to start receding following this afternoon's peak and that's when the massive clean up begins.
Carolyn Barry is the Online Editor of Australian Geographic.
RELATED STORIES
Read Next