Huge feral cats wreaking havoc in Arnhem Land
Rangers at the Warddeken Indigenous Protected Area in Arnhem Land have taken pictures of huge feral cats.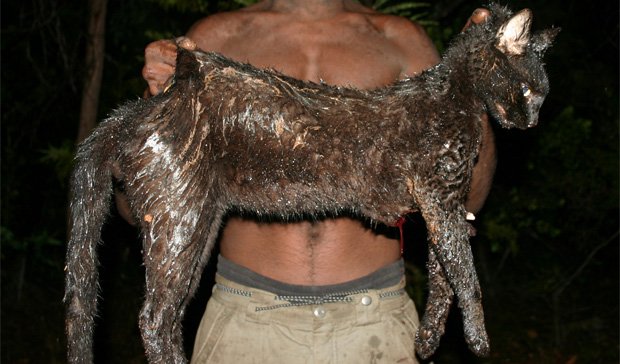 HUGE FERAL CATS ON the prowl in Arnhem Land could be responsible for a mass decline in native mammals, researchers say.
Ferals such as these roam Australia in enormous numbers, feasting on native wildlife. These photographs were taken by the traditional owners of the Warddeken Indigenous Protected Area (IPA in the Northern Territory.
Australian Geographic photographed the Warddeken IPA and rangers for a feature article last year.
Dr Graeme Gillespie, director of terrestrial ecosystems with the Northern Territory Department of Land Resource Management, is investigating the threat of feral cats as a potential threat in the Warddeken IPA.
"There's been a catastrophic decline in small and medium native mammals across the top of Australia over the last 20 or so years," says Graeme. "We think that cats have played a major role in that decline."
Graeme says the feral cats in these images probably weighed around 12-15kg.
Graeme says cats are a difficult species to study, and the team incorporates techniques from both western and indigenous approaches.
"[Western scientists] might use technology and prescribed methods for data collection and evaluation," explains Graeme. "Whereas indigenous land managers over thousands of years have developed an innate knowledge and understanding of how animals use the landscape, picking up subtle signs that might not be picked up by a bunch of western scientists wandering around the bush."
Together, the scientists and traditional land owners hope to develop effective methods for tracking feral cats, which will shed light on possible solutions to the ecological threat they pose.
RELATED STORIES
Read Next