On this day: Brisbane World Expo 88 opens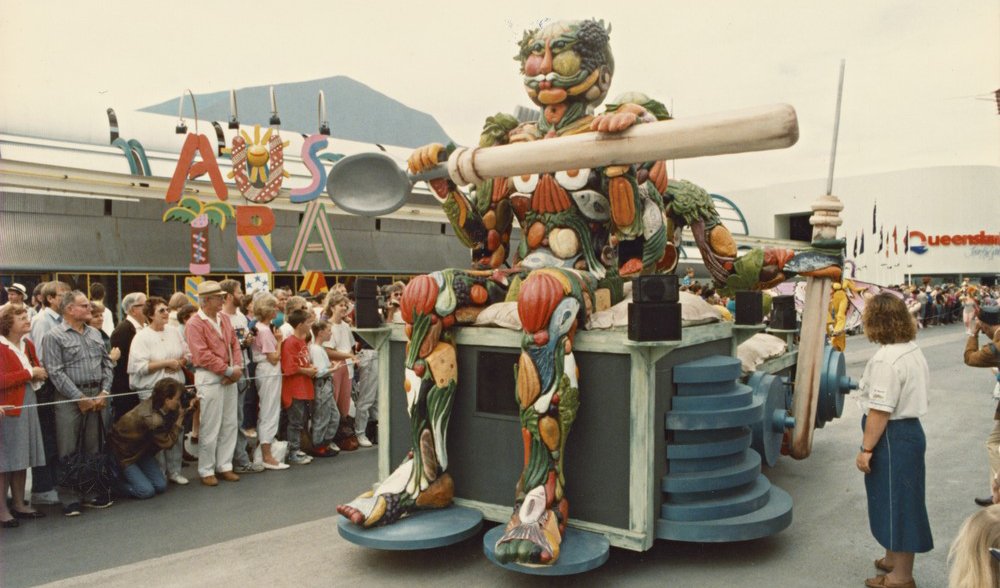 Glowing humanoid robots, virtual golf and hanging out at the Heat Wave Disco – Australians revelled in the extravaganza that was Expo 88.
IN THE MONTHS leading up to the much-anticipated opening of World Expo 88, Brisbanites watched in awe as the event's monumental infrastructure rose from the southern bank's light industry eye-sore to form a distinct skyline of its own, opposite the Brisbane CBD.
Several weeks before opening day, on 30 April 1988, a bout of severe weather and heavy rains hampered progress but in a flurry of last-minute construction, Expo '88 was unveiled to the world without delay.
John McGregor, who worked at the Expo and founded 'Celebrate 88', the event's commemorative website says, "Expo '88 was a very significant event in a very significant year. Australia wanted to host an international event to bring the world to its shores in celebration of Australia's Bicentenary."
On its first day, Expo welcomed more than 100,000 visitors including Queen Elizabeth II who arrived by royal barge on the Brisbane River from the HMS Britannia to officially open the event. She drew similes in her speech, addressed to an audience which included VIPs and government dignitaries, when she quipped: "While Queensland is known as the 'sunshine state', I much prefer its original name – Queen's land."
Expo 88 unveiled
Occupying 40ha on the Brisbane River, the Expo site featured eight 'sun-sail' entertainment shelters, a 2.3km monorail track, 100 exhibition pavilions, 22 soaring fish-shaped blimps, and the 88m-tall 'Night Companion' tower which projected a spotlight visible from 60km away.
The Leisure in the Age of Technology-themed extravaganza lasted six months (30 April through 30 October), and cost over $600 million to stage. While Australia's remote location made attendance a concern, the Expo exceeded expectations and averaged 100,000 visits per day over the event's 184-day span. The Expo welcomed its millionth visitor within a fortnight, two weeks earlier than anticipated.
Expo 88 offered a glimpse of a wider world's possibilities, featuring technological novelties, cultural demonstrations, global cuisine and performances ranging from traditional dances of the South Pacific to water-ski acrobatics. Expo participants included 52 government agencies, 36 international governments, and 50 corporate organisations.
Upon entry, glowing humanoid robots greeted visitors in 32 languages. While awaiting entrance to main attractions, troupes of acrobats, clowns and comedians engaged visitors. Parades featuring computer-operated diorama floats, musicians and dancers snaked through the crowds twice daily.
Nations pitch in for Expo 88
Australia occupied the largest pavilion, showcasing a multimedia production of the Aboriginal story of the Rainbow Serpent. In the adjacent Queensland pavilion, visitors were carried on a people-mover through exhibits illustrating Queensland's history, present and future, concluding with the state's plan to construct a space centre at Cape York.
Switzerland created an indoor ski slope, which was of particular interest to those Queenslanders who, having never encountered snow or temperatures of 2-3°C, could don a jumper and take ski lessons. A text-based intranet demonstration allowed visitors to find people in Switzerland's white pages.
New Zealand's pavilion – so popular that its queue often took 4-6 hours to get through – screened an animated presentation of the popular comic Footrot Flats.
"The US pavilion had three sections representing the US government, California and Hawaii. The US did a particularly good job articulating 'technology in sport'," John says. This included a virtual golf driving range and baseball pitching experience.
Other popular attractions included Spain's exhibit of original works by Picasso, Dali and Miro, the Australian Post's computerised pen-pal service, an epiphyte forest, an opal mine fun-ride and doing the chicken dance at the Munich Festhaus.
While the Expo proper was open from 10am to 10pm, night owls could shimmy until 3am at the 'Heat Wave Disco', indulge in a midnight snack at 'The Galaxy' or 'Star Terrace', or record vocals at the 'Wavelength Sound Studio'.
Brisbane's World Expo was an unparalleled celebration of Australia's growing world significance, but its success also had global implications.
"Expo 88 renewed the concept of world fairs from a period of insignificance and financial ruin, building on a picture of hosting world expos as being 'good' again," John says. The last world expo was held in 2012 in South Korea and hosted 8,200,000 people.
Read Next